We offer the following services:
- Internet Café
- Digital Photo Printing
- Coil Binding
- Computer Rental Workstations
- Laptop Docking
- Scanning
- Black & White Printing
- Greeting Cards
- Letterhead
- CD / DVD Duplication
- Brochures /Flyers Printing
- Certificate / Diploma Printing
- Laminating
- Resumes / Invitations
- Business Cards
- Color Laser Printing
- Large Format Printing
- Customized Calendars
- Iron-On T-Shirts
- Customized Clocks
LIBERIA: Governance & the UN Presence
By Francis W. Nyepon
Seven years ago the United Nations intervened in Liberia to pave the way for peace after almost 20 years of political decay, economic dislocation, social mismanagement, forced migration and severe population displacement. Many in the international Community were convinced that the UN was better able to bring about peace, respect for the rule of law, and facilitate good governance
---
Transitional Justice Working Group (TJWG) Comments On The TRC Report

A Press Release Issued by Transitional Justice Working Group

As stated in the July 2nd, 2009 Press Conference of the Transitional Justice Working Group (TJWG), we the members of TJWG of Liberia, a Coalition of Civil Society organizations working on various programs of Transitional Justice, commend the
Truth and Reconciliation Commission (TRC)
of Liberia for the completion and submission of its final report.
LIBERIA: Opinion divided on Truth and Reconciliation findings - IRIN News

In Liberia public opinion is divided on the recommendations of the
Truth and Reconciliation Commission
, based on four years of investigations into violations of human rights and humanitarian law during the country's civil conflict.
US Based Liberian Group Issues Statement on the TRC Report
After three years of extensive investigation, statement-taking from tens of thousands Liberians and the convening of a national conference, the Truth and Reconciliation Commission of Liberia (TRC) has released its final report which contains the following statement:

President Sirleaf MeetsResidents of Tappita District
President Ellen Johnson Sirleaf says her commitment to the development of Liberia remains strong and unwavering. The president says she will continue to perform the tasks for which she was elected by the Liberian people with more vigor and determination.
---
Liberia: TRC Report Important but not Last Step

A Press Release Issued By The International Center for Transitional Justice

The Liberia Truth and Reconciliation Commission's public release on July 2nd of its final report is an important, necessary step in Liberia's efforts to confront the legacies of its 14-year civil conflict and highlights the need for additional measures to deal with Liberia's difficult past, the International Center for Transitional Justice said today.
---
LIBERIA: The Dynamics Of A Transforming Society
By Francis W. Nyepon

The vision to significantly transform the Liberian society must first deal with changing the behavior, attitude and mindset of people at the bottom of the social strata. Change can never come to Liberia with the majority of its people believing that public officials do not have their best interest at heart as a collective; or the majority of the people being stuck at the bottom of the socioeconomic ladder.
"Back To The Soil": A Movement To Self Sufficiency, Or Another Political Lip Service To The Liberian People?
By Nyankor Matthew
On Saturday June 27, 2009, the government of Liberia in collaboration with the United Nations officially launched the "back to the soil movement", which – if done right - may be the catalyst for radically revitalizing our dormant agriculture sector.
President Sirleaf Supports Dual citizenship & Absentee Ballots
On Liberian President Ellen Johnson Sirleaf says Government welcomes the participation of Liberians residing in the United States and other countries abroad in the country's reconstruction.
---
A Political Crisis Is Looming Over The Delay In Enacting The Legislative Threshold And Other Related Electoral Bills
By: Abraham L. James

During the last few months many individuals at home and abroad have expressed special concerns about the Electoral Threshold Bill currently before the House of Representatives. Unless the bill is passed, in time, the presidential and legislative elections scheduled to be held in 2011
Corporations Paid $1 Trillion To Bribe; Does Firestone Bribe?
By: J. Yanqui Zaza
Regardless, whether or not the Liberian Firestone Rubber Plantation is another cartel as Liberian Vice President Joseph N. Boakai has indicated, (Speech at Lofa Convention, 5/24/09), the 83 year-old rubber plantation has enormous influence. Not only did it oust certain government negotiators, but it is now resisting its share of the cosmetic changes President Ellen Johnson Sirleaf government has offered to some companies that signed agreements prior to 2006.
---
Fighting Corruption in Liberia – Why I Think the Unity Party Led Government Lacks Genuine Political Will
By J. Kerkula Foeday

The culture of corruption and impunity in Liberia is unarguably entrenched and commonplace. It has, as the International Crisis Group succinctly noted in 2006 and referenced in my 2007 letter to members of the Liberia National Legislature through the House Speaker, helped spark and nurture the crises in Liberia.
Liberian TRC: Reconciliation before the Truth?
By Abdoulaye W. Dukule

Like many people in the country, I was surprised by an announcement last week that the Liberian Truth and Reconciliation Commission (TRC), the institution set up by the Accra Peace Accord to investigate the Liberian civil war and foster national reconciliation, would organize a national reconciliation conference, at the Unity Conference Center, in Virginia, starting June 15, 2009.
---
The New Kendeja, Symbol of a New Liberia
By Abdoulaye W. Dukule
On Tuesday, June 9, 2009, at a grand reception organized by Barkue Tubman of Miss Body Lady, Robert L. Johnson officially opened his new hotel, the RLJ-Kendeja-Resort and Villas, on the outskirts of Monrovia, halfway between the airport and the capital. The ceremony was attended by President Ellen Johnson Sirleaf, Chief Justice Johnnie Lewis, the US and Chinese Ambassadors
Duport Road: Remembering Wartime Atrocities
By Aaron Weah
On Saturday 30 May 2009, over 200 people gathered at an old school compound in Duport Road, a suburb of Monrovia and the scene of two massacres perpetrated during the Liberian civil war, as well as several mass graves. The occasion was a Beauty Queen contest held to raise funds to create a medical clinic and pay for a plaque commemorating the victims of those gruesome atrocities.
---
A Union Government will Complete Africa's Struggle for Independence
By: Joma Momolu Kaindii, Jr.

After decades of so-called celebrated independence for Africa, the troubling question that continues to linger in the minds of critical thinkers is whether nations in Africa are truly independence in the truest sense of the word? According to the Webster New World College Dictionary, the word independent is defined as: "free from influence, control, or determination of another; free from the rule of another; controlling or governing one-self; relying only on one's own ability and judgment; not depending on any person for financial support.
President Sirleaf Makes New Appointments
President Ellen Johnson Sirleaf has made new appointments in government affecting a number of Government Ministry, public corporations and political subdivisions of the country.

---
For Three Consecutive Years, Prosecution Wins More Cases Than Loses Under President Ellen Johnson-Sirleaf
By Tiawan S. Gongloe
Solicitor General, R.L

The Prosecution Department of the Ministry of Justice wishes to clarify the growing on public perception that the prosecution team of the Government of Liberia is weak and is not winning cases. The Prosecution Department says this perception is not supported by the facts. Since 2006, the government has obtained 286 convictions out of 357 cases tried.
DOLLARIZATION OF THE LIBERIAN ECONOMY: Liberia struggles with balancing dual currency amidst global economic contraction
By Nyankor Matthew
What exactly is dollarization? Dollarization occurs when countries officially give up their own currency and start using the U.S. dollar. Merriam Webster defines "dollarization" as "the adoption of the United States dollar as a country's official national currency". According to an International Monetary Fund working paper titled "Financial stability in dollarized economies", "…dollarization occurs when the U.S. dollar is adopted as the predominant or exclusive legal tender".
---
Liberian Vice President, Boakai Said Cement Co. Is A Cartel; Are Other Companies Cartels Too?
By J. Yanqui Zaza

The Vice President of Liberia, Joseph N. Boakai, at the 19th Convention of the federation of Lofa Association in the Americas held on May 23, 2009, fought unsuccessfully to defend President Ellen Johnson Sirleaf's efforts to reduce corruption, poverty, ignorance, etc. Smartly, he avoided prickly questions such as why does the government increase its cash reserves (US $144 million dollars, according a renowned economist and author of books, Dr. Byron Tarr-Frontpage Africa), but put development on hold, including the renovation of the Vionjama Multilateral High School.
---
Questions of Post War Justice in Liberia
By Abdoulaye W. Dukule

My friend's question about postwar justice, war crimes tribunal and so on made me to wander off in the depth of my mind to find an answer. I had thought about the issue many times, discussed the it with others in various forums but this was the first time that I was asked my personal opinion by a very close friend. I could not be evasive. We were having dinner at Rosie's Restaurant, in Airfield, a real culinary experience.
---
Bility-The Petrol Dollar Seeking Football Crown
By Julu M. Johnson, Jr.

The name Musa Bility rings a bell in the country, so the news spread like wildfire when it was announced that he is a likely contestant for the position of President of the Liberia Football Association (LFA). A very accomplished man indeed, Mr. Bility runs a petroleum company, Media Empire and heads the Mandingo Caucus.
'Time and Political Environment Not on Your Side,' Liberians on DED Warned
By Jeff Cooper
The head of the Organization of Liberians in Minnesota is warning his countrymen in the US that the political changes in their country may force the United States to send them home comes March 2010.

---
President Sirleaf on the Road: Book Launching and Debt Slashing
By Abdoulaye W. Dukulé

According to a fact sheet distributed during the press conference held by President Ellen Johnson Sirleaf and Mr. Robert Zoellick, President of the World Bank at the institution's headquarters in Washington, DC, the foreign debt of Liberia in June 2007 stood at a staggering US $4, 892,900,000, or almost five billions dollars. As President Sirleaf prepares to return home, that amount is today less then two billions dollars, at $1,708, 700 000.
---
Q & E with President Sirleaf on the Road
By Abdoulaye W. Dukule

The event took place at the University of California at Berkeley Human Rights Center, in Oakland, California. Although it was in the middle of spring break, the International House was full to capacity and many people had to watch the program on television monitors in adjacent rooms. After receiving the Berkeley Medal – the Chancellor of the University, Robert Birgeneau said Berkeley awards medals rather than honorary degrees
---
Exposing The Auditor, Professor And Consultant That Exists Only in Liberia
By Alfonso B. Nyepan

In addition to Ernest Young's renunciation of the snake oil salesman, "Auditor Sunny Nyemah", let it be known also that Mr. Sunny Nyemah was never an auditor anywhere in the United States. He may be one of the many con academics that our country has been unfortunate to have as a consequence of our long-running fratricidal war.
The Story of Her Life and the Nation's History: a review of This child Will be Great of Ellen Johnson Sirleaf
By Abdoulaye W. Dukulé

How did Liberia, a once perceived state and strong ally of the United States become a failed state after years of one of the most barbaric civil conflicts in modern times? How did a grandmother emerge to become the first elected president of that country and the African continent? How did that woman survive all the conflicts and confrontations of her time to become a national leader?
The General Auditing Commission Completes Several Audits
The General Auditing Commission (GAC) acknowledges with thanks, the countless requests from civil society organizations, religious leaders, student organizations, media institutions and ordinary citizens for copies of audit reports recently released by the Commission.
UL Professor's Fraudulent Act Exposed, GEMAP Expert In Conflict of Interest
A part-time instructor of Accounting Systems and Controls at the University of Liberia, S. Gervin Nyemah credential has been disclaimed by an international auditing firm, Ernst & Young.

---
President Sirleaf Meets Elders and Chiefs of Maryland County Upon Arrival In Harper at the Harper Airport
Grand Breaking for the Construction of a Rubber Processing Plant for the Cavalla Rubber Corporation
For Grand Breaking for the construction of a rubber processing plant for the Cavalla Rubber Corporation (CRC) has taken place in Gedetarbo, Pleebo District in Maryland County. Performing the ceremony Thursday in Pleebo, Liberian President Ellen Johnson Sirleaf, called on workers to cooperate with the management of the plantation for the mutual benefit of all parties. According to an Executive Mansion release, the President welcomed the steady progress announced by the company in the provision of social and other benefits for the workers and hoped the company will uphold its promise for better housing facilities for the workers. The plan, the Liberian leader said, is in line with Government's efforts to improve the welfare and living condition of the country's workers
The Liberian TRC: Shocks and Shortcomings
By Abdoulaye W. Dukulé

Democracy as it is popularly known today is defined as the will of the majority with due regard to the rights of the minority. Its fundamental characteristics are the holding of regular free, fair and transparent elections, just rule of law and credible or impartial justice system and unconditional practice of good governance.
The Time Is Now To Abolish The Death Penalty In The Mano River Union Basin
By Emmanuel Abalo
The Mano River sub-region in West Africa has, inarguably, for the last 25 years witnessed a stepped up visitation of the culture of death and wanton violence - from coup d'etats, outright insurgencies and imposition of the death penalty by governments.

False Prophecies in Liberia: The Gods Are Not To Be Blamed
By Thomas G. Bedell
There are so many good things in life. One of them is being at home where you were born. You can relate to things quite easily. That's because you remember things the way they used to be. You may get confused sometimes when those things change. But you will always find yourself right in the scheme of it all.

---
George Boley Is Lying
By William Yates

It's amazing how the likes of Boley have not come to the realization that the Liberian people can no longer be misled. Especially in this information/internet age when everything can be fact checked. It would have well served him to say that he was not in control of the situation at the time. Yes we know and have come to accept the fact that Charles reached out to him in his hour of life or death and was let down.
Global Witness & Green Advocate Laud the Liberian Government
President Ellen Johnson Sirleaf has welcomed comments and recommendations by two rights groups, contained in an in-depth analysis of a recently concluded Mineral Concession Agreement between the Government of Liberia and the China Union Mining Company.
For Completion of HIPC Audit, -GAC Dispatches Supreme Auditors
The General Auditing Commission(GAC), beginning February 25 to 31March 2009, is dispatching its team of supreme auditors to every, village, hamlet, town district and city in the fifteen counties of Liberia to reach the completion of the Highly Indebted Poor Countries Initiative (HIPC)audit, an audit that is part of the overall Prior Actions for direct donor support
---
Economic Crimes, Corruption and the Conflict in Liberia: Policy Options for an Emerging Democracy and sustainable Peace

By: Amara M. Konneh

All political systems need to mediate the relationship between private wealth and public power. Those that fail to work on this risk a dysfunctional government captured by special and wealthy interests. This is exactly the challenge Liberia faced leading up to the period 1979 to 2003.
Hello, President Sirleaf – which way are we headed?
-The case of Mary Broh and Col. Mulbah

By: Nyekeh Forkpa

Crime has gained an extraordinary pre-eminence among the social problems of our country, and preventing it in a sensible and responsible manner must become a priority for the Sirleaf government. The growing crime wave and other recent developments in our dear country are causing me immense consternation; and have left me wanting of some explanations and or clarifications about which way we are headed.
Global Witness Testifies at the TRC on the role of national and international timber companies in fuelling Liberia's civil war
(A Press Release Issued By Global Witness)
Since 2000, Global Witness exposed the way in which exploitation and trade of natural resources fuelled armed conflict in Liberia and across the region. The focus was former president Charles Taylor's harnessing of Liberia 's forest sector to fund his political ambitions and military campaigns, and the role of national and international companies in abetting him.
Rethinking the County Development Funding Program: A Memo to the President
By: Joseph Saah Fallah
It has become discernible that the county funding initiative is failing to meet its objectives as envisioned--funds allocated for county development projects are being discretionarily expensed by counties' officials. The level of complacency attributed to some Legislators, regarding the misapplication of development funds, is equally appalling.
Helping Liberia in Science and Technology: The Role of LIMANY and I-HELP Liberia Project

By: Ibrahim Al-bakri Nyei and Muhammad A. Kromah

Education in the 21st century requires the usage of modern scientific technology and equipments to practically demonstrate theoretical and mathematical propositions in the classroom. The educational system in Liberia is crippling with systemic difficulties in the form of limited human resource capacity and acute unavailability of resources to support the process.
---
A reflection on the ULAA Debacle
By Nyekeh Forkpa

For quite sometime I have refrained from commenting on the exchanges on this listserve regarding ULAA because more often than not, they have bordered on sheer recklessness. It has not been about ideas and visions. Far from that!
CDC, LP and NPP Joint Response to the President's Annual Report on the State of the Republic
Sadly, the President's Annual Report on the State of the Republic is noteworthy for what she did not say, than for what she did say. The report, long on self praises and self congratulations, is disappointingly short on the real story of ordinary Liberians and Liberia. The report gives the impression that all is well with our Republic. In fulfillment of our solemn duty to you, our people, we are compelled to disagree with the President, and report that in fact, all is not well with our Republic
Student Group, Civil Society Bestow Honor on Auditor General Morlu
One of the oldest student political parties on the campus of Liberia's highest institution of learning, the University of Liberia(UL), the vanguard Student Unification Party(SUP), and a civil society organization, Society for the Promotion of Peace(SPNRL) Wednesday, February 4, 2009 at separate venues conferred honor on the Auditor General (AG) of Liberia, John S. Morlu II
---
Attack on Liberia's Auditor General Deserves Swift Retribution
By: Theodore Hodge

It has been widely reported that Mr. John Morlu, Liberia's popular, but controversial Auditor General, was verbally attacked in public after he attended an occasion to which he was officially invited by the President of the Republic of Liberia.
With Eyes 2011, President Sirleaf Sees No Wrong With Investors' Bribery
By: J. Yanqui Zaza
Before addressing the motive of corruption-greed, poverty and capitalism- let me extend thanks to Rodney Sieh and his co-workers for the efforts on their part to expose corruption in Liberia. Fighting corruption is now occurring in every corner of the world. Yet a successful war on corruption cannot be won without combating all motive of corruption.
President Sirleaf Makes New Appointments
President Ellen Johnson Sirleaf has made several appointments in Government, subject to confirmation by the Liberian Senate, where applicable.

---
The Chucky Taylor Trial: A Milestone For Justice, But A Call To Action
By Alphonso Nyenuh

The recent conviction and subsequent sentencing of Charles shucky" Taylor Jr., son of Liberian warlord and former president Charles Taylor in US Federal Court for abuses committed in Liberia during the brutal reign of his father is significant for two main reasons
The Dunn Commission and Transparency in Liberia
By Abdoulaye W. Dukulé

When a stream of emails linking officials of the Liberian government to acts of corruption appeared in a Liberian web magazine, FrontpageAfrica.com, (FPA) in August 2008, President Ellen Johnson Sirleaf appointed Dr. Elwood Dunn to head an investigative commission to ascertain the facts.
---
Another round of disappointment
By Sam K Zinnah

In my personal opinion, the main objective for political governance in post-war Liberia should be to secure democracy by instilling checks and balances, which have been absent throughout Liberia's long history. Such political system "in a way" would limit or reduce the president or group of people's power to no longer usurp so much power and wield such extraordinary influence over the fate of the majority...
Obama Movement Versus Big Business In Liberia
By J. Yanqui Zaza
Liberians are rejoicing the heroic achievement of President-elect Barack Obama's ascendancy to the Presidency of the United States of America with mixed emotions. On the one hand, Obama's journey to the White House dismisses the myth that blackness signals inferiority or inefficiency
Tarponweh's Antics Against Kofi Woods – A Rejoinder
By Alphonso Nyenuh
On 11/23/08 Mr. Tilberosa Summoh Tarponweh wrote a letter to Frontpageafrica titled: The Curiosity of Minister Wood's Appearance before the TRC. In that letter Mr. Tarpponweh criticized the timing of Minister Woods's presentation before the TRC as well as Woods' support to the TRC.
Beyond Internal Controls & Internal Audit: "A Need for a Holistic Approach to Curbing Corruption"
By Sunny Nyemah
In adversity lie opportunities. In most of Liberia's daily newspapers, corruption leads the headlines. The amplification of corruption indicates the openness of the current government, and its sincerity about tackling corruption. However, we must go beyond the call for "Internal Controls & Internal Audit" to a more "Holistic Approach to Curbing Corruption"

Finally, a Structural Strategy to Combat Corruption
By Abdoulaye w. Dukulé
No country can claim to totally eradicate corruption. However, one can put in place measures to put the phenomenon under control. In her recent policy statement, President Ellen Johnson Sirleaf seems to have embarked on a way to find long-term solutions to something that has permeated the Liberian society and government from its founding days.
Why is there no peace in our Liberian Community?
By Alexander M. Swen
Liberians continue to wonder why there is always problem in our homeland, with increase of Liberians in the Diaspora, conflict continues to linger in all Liberians organization. There are several reasons, I think, the most obvious of which is "self interest" that is being borne by a small number of Liberians and their proxy.
---
Tackling Lingering Constitutional and Other Legal Issues
By Abraham L. James, Esq.
In this article I will focus on the draft constitution that was written by the National Constitution Commission (NCC), subsequently turned over to the National Advisory Assembly (NAA), reviewed and altered by them and subsequently promulgated in 1986 as the constitution of Liberia. I propose to provide a little background information on the Commission, its mandate and the methodology that was employed in crafting the document.

The Western powers can Prevent Africa's underdevelopment
By: J. Momolu Kaindii, Jr
Africa's independence seems to be a nightmare to many ordinary Africans. While its former colonial masters and their anointed African agents scramble over the dividends of independence, the ordinary Africans are there to bear the burdens. This may be provocative, but Africa's quest for sustainable development have presented a degrading scenario which portrays that the continent still lingers in the closets of its former colonial masters

Capitalists Trickle Down, Not Profits, Corruption On Wall Street, In Liberia, Everywhere
By: J. Yanqui Zaza
Corruption, springing from the tentacles of capitalism, is not new and is everywhere. During the Dutch Tulips and South Sea bubble in 1630, speculators swept away the lifesavings of people, including Isaac Newton (Joe Nocera, NY Times, 10/11/08).


Public Policy Development and Analysis Notes: For Legislators and Local Government Officials in Liberia
By: Gleh Huston Appleton
I believe, and I am sure you agree with me, that as Liberia transitions from a period of acrimony; during the dark period of its history, into the dawn of a new democracy, there is an ever increasing role, duty and responsibility for proficiency marked by accountability, transparency and professionalism and participation in the discharge of public duties.

---
The Palin Factor in US Elections 2008
By Aisha M. Dukulé
On November 5th, 2008, one of the presidential nominees Obama or McCain will be elected to replace President Bush in the White house. 125 million-200 million people are expected to vote in one of the biggest elections in American history since the 1930's when FDR was elected. (www.america.gov).

---
Liberia's Economic Reform: Worldbank Praises; Rodney Sieh Exposes Corruption
By J. Yanqui Zaza

Profiteers are once again attempting to re-institutionalize the accumulation of wealth, although short of selling the poorest Liberians into slavery for few dollars, which the Tipotehs, Matthews, Sawyers, Fahnbullehs exposed and uprooted. While the selling of strategic assets on the cheap in exchange of kickbacks (see Knuckles gate II by Rodney Sieh) might not include the physical transfer of Liberians onto the possession of slaveholders, its
The TRC Struggles for Control
Unpacking the Conduct of the Institutional and Thematic Hearings
By Aaron Weah
The ongoing institutional and thematic hearings by the Liberian Truth and Reconciliation Commission project a scenery of theatrics and grandstanding in the struggle for control of a public process. It is a struggle for control in the effort to ostensibly address wrongs from the recent civil conflict and other violent periods preceding the 1989 rebel insurgency.

Troubled Boundaries, in Liberia's Past, and Suggestions toward their Resolution
Presentation at TRC Hearing
By Svend E. Holsoe, Ph.D.
Today, I would like to suggest some ways to look at what I will called "troubled boundaries." Although many of these boundaries may not have directly led to the civil war, what they created was an environment of tensions in the society, which served as an underlying troubled base, from which particular issues could bubble up to outright overt violence. By structuring a way to look at the general situation and to provide a few examples, it may br useful to provide a framework for the TRC and ultimately Liberians to come to grips with the past, and at the same time, create a mechanism to look for sustainable ways of confronting contested social issues

Statement at the Anti-Corruption commissioning ceremony
Delivered By President Ellen Johnson Sirleaf
Corruption and poverty are deeply intertwined. Corruption is a major obstacle to sustained economic growth, poverty reduction, and social development. It distorts the rule of law, weakens the social fabric of society, and undermines the institutional foundation on which economic growth depends.

Troubled Boundaries, in Liberia's Past, and Suggestions toward their Resolution
Svend E. Holsoe, Ph.D.
Today, I would like to suggest some ways to look at what I will called "troubled boundaries." Although many of these boundaries may not have directly led to the civil war, what they created was an environment of tensions in the society, which served as an underlying troubled base, from which particular issues could bubble up to outright overt violence.

---
Remarks on "Overcoming Alienation and Building National Community In Liberia" at Thematic Hearings on Historical Review, Truth and Reconciliation Commission
By Dr. D. Elwood Dunn
I propose to focus my remarks on the alienation dimension of our national problem. The fact that there is a connection between political violence prior to, and following1990, should by now be clear as we proceed with the general historical review. For that part of our problem, which dates to 1990, and which is widely perceived in common with civil wars in other countries since the end of the Cold War, there is extensive literature to call upon in our quest at understanding the requirements for national reconstruction

Dual Citizenship: Re-privileging the Newest Wave of Diasporic Liberians?
By Samuel G. Toe
There are fears that a dual-citizenship law in Liberia may be the beginning of the process to re-privilege the newest wave of diasporic Liberians living in the U.S. and elsewhere.

Forgiveness and Human Development, Liberians, the Way Forward to Sustainable Peace and Harmony
By Abraham Hoff
The TRUTH and RECONCILIATION Commissions of Liberia is investigating the causes of the conflict in Liberia, correcting historical inaccuracies and bringing the truths to light under the theme: "Examining Liberia's Past: Reality, Myth, Falsehood and the Conflict", accordion to Mr. James Kpargoi, Jr. via the Liberian Journal

Military Alliance: A New Way Forward in International relations
By Nyaquoi Gehgan Bowman
Military alliances which were once seen as threats to world peace are now emerging as new the directions in international relations. Whether these alliances are good for peaceful coexistence in today's world remains unclear, but this new trend is once again demarcating the world into military zones reminiscent of the Cold War.

---
The University of Liberia President Search: One Citizen's Insights
By: Emmanuel Dolo, Ph. D.

The University of Liberia has again launched a search for a new president. Clearly, the University of Liberia is emerging from under the same weight of leadership failure and resource scarcity that the Sirleaf administration is seeking to overcome.
THE RISK OF INGRATITUDE: The Blind and Hurry (Political) Rejection of Liberia's 1970s Era Progressives
By: Tito M. Johnson
Historians can be very harsh and subjective. It seems that the significant contributions and successes—depending on your perspective—of the progressives of the 1970s had been overshadowed by the strong sentiments against the failings of the military regime of the erstwhile People's Redemption Council (PRC), headed by the late Master-Sergeant Samuel Kanyon Doe.

AFRICOM : Implications to our national security and national interest, if...
(By: James Thomas-Queh)

A conspicuous absence yet from this debate – on an issue of a vital importance to our national security and national interest - is the opinion of our major political leaders. And what do you expect, most of us still have families, homes, businesses and other attachments in the United States.
Proactive Approach and Constructive Criticism, not Rhetoric and Destructive Criticism
(By Sunny G. Nyemah)
There are two generations in Africa according to economist George Ayittey (book "Africa Unchained"): The Cheetah Generation and the Hippo Generation. Cheetahs seek knowledge, innovation and look for solutions to their problems..."
Awards Must Translate Into Better Life For All Liberians
(By: James W. Harris)
On the international stage, Liberian President Ellen Johnson Sirleaf easily passes off as a kind of rock star or Hollywood celebrity. Everywhere she has gone, the President has usually been given very warm reception by her hosts. No doubt the friendships and contacts she has nurtured over the years working with such organizations
AFRICOM and Liberia: A Case of Dashed Hopes
(By: R. Wesley Harmon)
Convinced about the positive impact AFRICOM will undoubtedly have on the fortunes of the country that will be chosen to host its headquarters, proponents, of having said headquarters based in Liberia, are indeed disappointed to learn from President Ellen Johnson-Sirleaf, that Liberia stands little or no chance of having this highest American honor bestowed upon her.
---
President Sirleaf (L) and President Bush
President Sirleaf Reeives US Presidential Medal of Freedom
The White House has announced that Liberia's President Ellen Johnson Sirleaf will receive America's highest government honor awarded to civilians, the Presidential Medal of Freedom
Bad Policies, the Lack of Policies, and Policies Inconsistencies are Undermining Development of Liberia
(By Rufus N. Darkortey)
Liberia's ability to develop is being severely undermined as a result of bad policies, the lack of policies, and policies inconsistencies. Although the civil war was a major factor that significantly damaged the country, its adverse impact is not as powerful as the series of bad policies
Balancing between Beijing and Washington
(By: J. M. Kaindii, Jr.)
The twentieth century was so cold that it frozen several aggressive leaders of Africa and the rest of the underdeveloped world. The bipolar power rivalry characterized by the cold war tormented the ordinary peoples in Africa. Liberia was muddied in this crisis by two phrases "genuine non-alignment and self reliance".
---
AFRICOM Has the Capacity to do Good in Liberia
(By William E. Allen)

I have followed the ongoing debate on whether Liberia should or should not be the headquarters of the United States new military's command center for Africa, known as Africa Command (AFRICOM). Both supporters and opponents have raised important points about the respective benefits and disadvantages of this new United States military post.
Freedom Award Recipients (front)
President Sirleaf Receives Freedom Award
President Ellen Johnson Sirleaf has participated in programs marking the formal presentation of the 2007 Freedom Award in Memphis, Tennessee, the United States. In accepting the Award Tuesday night at the Memphis Convention Center, the President said the Award signifies in the eyes of the world that Liberia has embarked on an irreversible journey to reclaim its place among those nations that uphold fundamental freedoms, including freedom of speech as the foundation of their political discourse.
The Life And Times Of Rev. Dr. William H. Lewis, Sr
(By Henry Lewis)

To journal the life of Rev. Dr. William Henry Varney Lewis, Sr., is to put into picture the story of a man on a quest beginning from his native country, Liberia to Africa and unto the rest of the world; for he did traveled half the world and in doing so, lend valid credence to the fact that luck occurs when preparation meets opportunity.
Hurray! The Monrovia Stock Exchange Hits A New Milestone: Imagining the Possibilities
(By Patrick Flomo)

At dawn, I woke up to an astonishing business newscast — the Monrovia Stock Market is as hot today as cayenne pepper. Today is Friday, October 21, 2025, and the stock market has reached an all-time high in the last ten years. The flurry of market activity is the result of a meeting this morning between the five regional banks' chairman and the central bank president.
Building the Ideology of Reconciliation in Liberia
(By: J. Momolu Kaindii, Jr)

The Liberian society remains overly divided despite the 14 years' catastrophic period of bloodletting, barbarism, mayhems, vandalisms and devastations of physical, social and economic infrastructures. Most worrisome of it all is the irreparable damage done to the moral psyche of the population, particularly the youths as future leaders.
Promises of Debt Relief, AFRICOM and Awards mark Presidential US Visit
(By Abdoulaye W. Dukulé)
If there ever was a political Oscar night, the Africare dinner honoring President Ellen Johnson Sirleaf could pass for one. There were Chris Tucker, Cicely Tyson, Barbara Lee, and Debbie Lee. Robert L. Johnson showed up with a coterie of media personalities. On the political side, the who's who of Congress was on hand. According to Africare President Julius Coles, this was the most "successful fundraising evening" of his 5-year tenure at the head of the largest African-American humanitarian non-governmental organization devoted to Africa.

IMF, Shareholders Failing Liberia
(Press Release Issued By Africa Action and Jubilee USA Network)
Liberia's debt to the IMF, the World Bank, and other creditors totals more than $4.5 billion. Much of this debt is odious or illegitimate in nature, having been run up by the brutal regime of Samuel Doe, with no benefit to the people. During years of civil war, Liberia failed to make its scheduled payments, resulting in huge arrears which the IMF insists must be cleared before Liberia can enter the debt cancellation process.


Bringing Adequate Safe Drinking Water to Monrovia, Very soon
(By Abdoulaye W. Dukulé)

The lack of safe drinking water in some parts of Monrovia has been one of the gravest consequences of the fourteen-year Liberian civil war that has left much of the national infrastructure, including the Monrovia water supply and distribution system, in total disrepair. Potable water is essential to health. From drinking to cooking and even flushing toilets, the shortage of pipe borne water is major cause of health hazard, aggravated by the absence of any sanitary sewage system. An entire generation of Liberian children has never seen water coming out of a faucet in their homes.
President Sirleaf Meets US President Bush
Liberian President Ellen Johnson Sirleaf has held talks in Washington with United States President, George W. Bush. The meeting which last more than half and hour, was held at the oval office of the White House.
Introduction of kpelle as a National Language
(By Sonkarley T. Beaie)
I have reserved this comment for long, when an issue of introduction of Kpelle as a national language was raised. Now, the argument on the definition of "kubba", as published by the onliberianmedium had caused me to break the silence.
---
Liberia Receives Support for Senior Executive Service (Press Release)

WASHINGTON
, October 18th, 2007
– The World Bank Regional Vice President for Africa today approved a US$2.30 million grant to Liberia for the Emergency Senior Executive Service Project. The project, funded by the Trust Fund for Liberia (TFLIB), will support the Government of Liberia efforts to rebuild the civil service in Liberia .

Remarks By President Ellen Johnson Sirleaf At The 2007 AFRICARE Bishop Walker Dinner
Thank you to everyone who is here tonight and to AFRICARE for hosting this event and presenting me with such a notable honor. When I look at the list of the past recipients – President Nelson Mandela, Bishop Desmond Tutu, Richard Lugar, Bill and Melinda Gates, President Bill Clinton, Colin Powell, I can't help but feel humbled to be included. Each man and woman so honored was a pioneer in their own way, changing the world with their ideas and their innovations. This, for me, is the definition of true legacy.

The Life And Legacy Of Secretary Of State J. Rudolph Grimes
(By Abraham L. James)
Born on October 31, 1923, the late Secretary of State J. Rudolph Grimes was the third of four children. His father, Honorable Louis Arthur Grimes, was of West Indian descent. His mother, Mrs. Victoria Grimes, was a descendant of one of the Kiazolu clan of Grand Cape Mount County.
President Sirleaf And World Bank Pay Super-Salaries, Layoff Poor Workers, Give Liberia's Resources To Profiteers. Why?
(By J. Yanqui Zaza )
The recent Hearing held by the Liberian Legislature might not have delved into the rationale why President Ellen Johnson Sirleaf and the World Bank are paying $100,000.00 to $300,000.00 to few advisors of the President (NewDemocrat, May 8, 2007). The announced official reason, "…the International community's effort in attracting highly qualified experts in implementing the GEMAP," is, to say the least, laughable
President Sirleaf 's Burden: Projecting a Positive Image of Liberia
(By Abdoulaye W. Dukulé)
The next two weeks will provide President Ellen Johnson Sirleaf with to further the cause of her country, make for debt relief appeals as well as present a positive and redeeming image of the country. She will stand on two podiums that, in the past decades, have hosted some of the greatest political leaders in recent history.

Leadership: My Perspective
(By: Theodore T. Hodge)
We Africans keep bashing our leaders. From South Africa to Liberia; from Algeria to Zimbabwe, the conversation usually winds down a familiar path. When you bring ordinary citizens together and ask them for their opinions about leadership, you will soon hear that most of our presidents, prime ministers, cabinet members, legislators, lawyers and judges --- our national leaders --- are held in very low esteem

---
Issues about Land, Energy, Minerals and Government Policies
An interview with Minister Eugene Shannon
(By Abdoulaye W. Dukulé)

A former official of the African Development Bank, the U.S. Geological Service, and environmentalist, Dr. Eugene Shannon, returned to Liberia after the election of the Unity Party's Ellen Johnson Sirleaf, to head one the most important multi-departments of the government. As minister of Lands, Mines and Energy, he oversees four areas critical to the recovery, both social and economic, of the nation. While in the U.S. to attend the series of symposia organized by the Embassy of Liberia in Washington, D.C., Minister Shannon discussed with us policies and strategies in four sectors of his ministry.
Vacancies For Seven Lucrative Positions in Liberia
These include: 1) Senior Transport Economist, Ministry of Public Works , 2) Senior Bridge Engineer, Ministry of Public Works, 3) Road Construction Equipment Maintenance Specialist, Ministry of Public works, 4) National Land Reform Program Coordinator, Land Administrative Reform Program Unit, Division of Operation, Ministry of Lands, Mines and Energy, 5) Legal Counselor, Ministry of Justice, 6) Lawyer, Ministry of Justice, 7) Legal Counselor, Ministry of Commerce and Industry
---
Liberia: "Open for Business"
(By Siahyonkron Nyanseor)

On Saturday, October 6, 2007, Ambassador Charles A. Minor and the Liberian Embassy in the United States collaborated with the Liberian American Partnership Initiative, headed by Mr. Wilfred T. Harris and a host committee comprising of Americans and Liberians in the persons of R. Gledegbem Garguah, Jonathan J. Geegbae, I, Mabel Jaryeneh Green, Wilfred T. Harris, Cynthia Blandford Nash, T. Nelson Williams, II, Sue Yancy Williams, President of the Liberian Association of Metropolitan (LAMA, Inc.), and the Hon. Walter Young in a Private Sector Investment Symposium.
AFRICOM is Bad News for Africa and Liberia and Here's Why
(By Ezekiel Pajibo)
Of course, I have weighed in on these matters before now but the need to speak out loudly is ever more urgent, relevant and necessary. No doubt, the view I hold is a minority one and even at variance with those of the powers that be in Liberia. The previous article co-written with Emira Woods was largely for a non-Liberian audience. As such, my arguments were constrained. Here, I want to make my argument largely for a Liberian audience.
The Liberian Legislature: Disposable Political Accessories of the Executive Branch?
(By: Emmanuel Dolo)
Neither the remnants of the protected and inward-looking despotic systems of the pre-war era nor the so-called post-war governance institutions that have emerged so far qualify for democracy. They do not fulfill the high expectations for democratic change that Liberians have for so long aspire, and for which so many of its citizens have died. We still have a long wait to rid the country of a political system that was built around an all-powerful president and judicial patterns that tolerated crony politics and one party rule.
Technology Widens Rich-Poor Gap
(By Philip Emeagwali)
Oil has made us billions and fuelled our economic stability, but oil has also become the bane of our existence. For some, it is a curse that has caused poverty and corruption, but for others it is an essential source of untold wealth and power. But as the gap between rich and poor countries continues to expand, it is clear that intellectual capital and technology rule the world, and that natural resources such as oil, gold...

Liberian workers must be protected from occupational hazards
(By Charles Gono)
I applaud the Sirleaf Administration for addressing the environment in the Mittal Steel deal concluded early this year. It was necessary and right-definitely a step in the right direction. However, there is very little mention of workers' safety and health in the agreement.
Nyanseor unfolds his heart and mind in a 'heart to heart' Conversation with his son as he turned 60
(By Didwho-Twe Jlopleh Nyanseor)
I will start this conversation by first introducing my father, Mr. Siahyonkron Jglay Kpa-kay Nyanseor, Sr. Mr. Nyanseor was born in the City of Monrovia, Montserrado County, Liberia, on July 22, 1947. He came to the United States at the age of 21 – December 1968.
---
AFRICOM: Examining the Issues
(By: Theodore T. Hodge)

Over the last several months in the Liberian press, both at home and in the Diaspora, there have been several debates on the issue of Africom: To accept it or reject it. I have read quite a few opinions supporting the initiative. On the other hand, there have been a number of scathing opinions.
Closing the Gender Gap: Recruiting and Retaining Female Students at Higher Education Institutions in Liberia
(By Wilfred M. Manyango)
Female enrollment at higher education institutions around the world has been an issue under discussion for a long time. Since the inception of what is now regarded as higher education centuries ago, female students have lagged in enrollment compared to their male counterparts.


Marylanders in the USA Elect New Leadership
(Press Release)
On September 29th - 30th, 2007, The National Maryland County Association Of Liberia (Namcal) Held Its 5th Annual Convention At The Hilton Hartford, In Hartford, Ct. And Elected A New Core Of Officers For A Term Of 2 Years.

---
Another Liberia Private Sector Investment Symposium For Atlanta Georgia
As part of an ongoing effort to attract private-sector investors to post-conflict Liberia, The Embassy of Liberia in partnership with The Liberian American Partnership Initiative (LAPI) has selected Atlanta as one of four host sites for a series of U.S. investment forums.
Resolution from the people of Maryland County to their Legislators at the Consultative Meeting
Whereas we the people of Maryland County, in consultative Assembly with the Maryland Legislative Caucus: Having presented and deliberated on issues greatly affecting our socio-economic and political life which include the reopening of the William V. S Tubman College of Technology (TC), the status of the various concessions areas, namely the Cavalla Rubber Plantation, DECORIS, LIBSUCO and others
---
Angie Brooks: Pioneer Liberian Woman
Diplomat Remembered
(By D. Elwood Dunn)

Angie Brooks' entry into the Liberian diplomatic service was unorthodox. It was the result of a determined, in deed courageous personal struggle to seek higher education abroad. She succeeded admirably, returning home to Liberia from the U.S. in 1953 with undergraduate and advanced degrees, including a law degree from the University of Wisconsin-Madison.
---
Vacancy for Executive Vice President/Comptroller at a Major Financial Institution in Liberia - Ad

A major financial institution in the Republic of Liberia, West Africa is expanding its scope of services with the view of maintaining and enhancing its market presence and requires the services of an experienced financial manager. An attractive compensation package inclusive of retirement benefits is offered
The General Auditing Commission (GAC) and Political Interference
(By Nyankor Matthew)
This letter is in response to AG Morlu being held in Legislative contempt and fined LD$4,599.99. Our Legislators can't be serious! Will this man ever be allowed to do the work he left a well paying career, his family and friends for?
Us Military Command (Africom): Liberia's Strategic Balance
(By Masu Fahnbulleh)
It would have never occurred to me that my generation-those born in the 60's in Liberia will come to be face with such surmountable challenge as having to be placed in Diaspora and absolutely no place to call home. A sanctuary that should have provided a shared memory of our childhood years-weather growing up in the beautiful seaside community of Robertsport, Grand Cape Mount County and or in Cape Palmas...
Opponents Of Africom Are Playing A Dangerous Game
(Fillmore Hney)
Most opponents of Africom are still in the woods. Insofar as the truth and nothing but truth has not yet been told about Africom, it is fair to say that they're playing a dangerous game of intimidation.
---
Understanding the Case for Reparations and Other Claims
(
By Theodore T. Hodge
)
I want to thank Comrade J. Yanqui Zaza for many of his past articles presented in this forum and elsewhere. Many of his writings have been thought-provoking, forcing many of us to view issues through a different set of lenses. That is good for those of us who advocate for pluralism and inclusiveness in the new Liberia. However, in his latest article on reparations, Mr. Zaza raises more questions than he answers.
Africom: Wrong for Liberia, Disastrous for Africa
(
By Ezekiel Pajibo
)
February 2007, just 2 months after U.S. aerial bombardments began in Somalia, the Bush Administration solidified its militaristic engagement with Africa when the Department of Defense (DoD) announced the creation of a new U.S. Africa Command infrastructure, code name AFRICOM, to coordinate all U.S. military and security interests throughout the continent".
---
AFRICOM: A New Paradigm in US-Africa Relations
(By Abdoulaye W. Dukulé)
The announcement a few months ago by the US government to create a central military command to be based in Africa has been received with mixed and not so-subtle reactions both in the US and Africa. In the US, humanitarian organizations and their partners worry that the military will take over their role as distributors of humanitarian aid and overseeing development programs, while in Africa some voices, particularly in South Africa and Libya, clearly warn against any US military presence on the continent

Former Charles Taylor Justice Minister Eyeing Legislature In Liberia
(By Sam K Zinnah) It is now becoming clear that Cllr. Eddington Amadu Varmah, 'the man who constantly defended the actions of one of Liberia's notorious dictators, Charles Taylor, is now trying to elbow his way back into a political position in the government of Liberia'.

The Liberian and African Experience: AFRICOM, Another Case of "Smell No Taste"
(By Siahyonkron Nyanseor)
"…Politics is both spectator sport and political activity utilized by organized groups to get specific, tangible benefit for themselves. While many of us see politics as a passing parade of abstract symbols, to others politics confers wealth, takes lives, imprisons or frees people, or does other things, good or bad…


Minnesota Trade Conference
Investment Symposium Kicks off to a Start
(By Abdoulaye W. Dukulé)

The first of a series of symposia organized by the government through the Embassy in Washington was held in Bloomington, Minnesota over the weekend and drew in an unexpected number of businesses, both Liberian and foreigners to discuss trade and investment possibilities in Liberia.
Reparations: Should Liberia Pay Siblings Of True Whig Party Officials Executed On April 22, 1980?
(By J. Yanqui Zaza)

The demand for reparations by some siblings of former and current members of the True Whip Party has gone beyond the corridors of power in Liberia into the offices of Liberia's international partners. Their desire has leapt from the call for an apology (The Perspective, April 5, 2005) to the call for reparations from Liberians
---
What good is a Biometric System without a good National IT Infrastructure in place?
(By: Scott A. Mandeh)

The article is of interest because of the soon to be used technology, the Biometric scan. The article quoted Dr. William Allen, the Civil Service Agency Director-General that Civil Servants will soon begin scanning their fingerprints, eyes and faces. Let me commend Dr. Allen for a good start
Sustainable Peace Depends on Viable Private Sector – Ambassador Charles Minor
(By Jefferson F Cooper)
Liberia Ambassador to the United States Charles A. Minor said sustaining peace in Liberia demands that Liberians must be able to find jobs that will enable them realize their dreams.
---
More on Liberian Local Elections and the Challenges of Building Democracy
(By Theodore T. Hodge)

My colleague Abdoulaye Dukule must be commended for his last article addressing the issue of mayoral and chieftain elections. It belongs in the category, "Food for thought". I hope the movers and shakers of the political arena of Liberia will give his ideas some consideration.
G. Baccus Matthews : A Man I Got To Know
(By James Thomas-Queh)
As an amateur footballer in the mid 1960s, and being a part of the cheering squad of the team of my alma mater – the Laboratory High School – I already had an admiration for G. Baccus Matthews then the star goal-keep of the College of West Africa (CWA).
---
G. Baccus, A Member of My Generation that Could not "Leave the People's Thing Alone
(
By Siahyonkron Nyanseor)
Unlike the
Roman politician and general,
Marcus Antonius
, I

come to honor
<![if !vml]> <![endif]>
G. Baccus not to bury him; because of the struggle he championed, there is no need to dwell on his mistakes at this time. In fact, who among us here - is without any faults? Since there is none, I will take this time to pay tribute to my friend
and brother in the struggle.

Open Letter to Special Representative Alan Doss
(From Ronald Y. Free)
Having been opportune to visit Liberia from July- August of this year and fortunate to be back to the United States; I write to express my observation as it relates to the complacency of the United Nations Mission in Liberia.

The Death Of Madam Angie Brooks Randolph
President Ellen Johnson Sirleaf is particularly saddened over the death of Madam Angie Brooks Randolph, Liberia's first Associate Justice, and the first female President of the 24th session of the General Assembly of the United Nations

If I Must Remember G. Baccus Matthews
(By Jesse Z. G. Fahngon)
If I must remember G. Baccus Matthews, I will say in few words: he is the father of multi-parties system in Liberia. He planted the final cornerstone to end one-party rule in Liberia. He challenged the OLD ORDER while in his 20s. He organized the "People Progressive Party (PPP)". What a man!
---
A Reality Check to: The Re-emergence of the Americo-liberian Hegemony
(By: Theodore T. Hodge)

Mr. Dolleh is correct: Americo-Liberians became the ruling class upon Liberia's independence. But being a very small portion of the general population, they had to boost their standings by forming a coalition of a privileged class --- this elite class extended far beyond the actual Americo-Liberian clan.
Vacancy for Senior Positions at the University of Liberia - AD
The University of Liberia, Liberia's National University, is accepting applications for Four positions as follows: 1. Provost & Vice President for Academic Affairs, 2. Vice President for Administration, 3. Comptroller and 4. Dean of Student Services
---
Liberia Local Elections & the Challenges of Building Democracy
(By Abdoulaye W. Dukulé)

Not too long ago, Liberia had the capacity to organize elections on its own, without going out, looking for aid and advises. However, that was before "democracy" and before electoral processes turned into an industry, with the coterie of international observers, the network of computers, a bureaucracy called "Elections Commission" and thousands of paid workers to tabulate votes.
Liberia's Security Dilemma: Addressing the Root Causes Rather than the Symptoms
(By Siahyonkron Nyanseor)
Dr. Emmanuel Dolo made some interesting observations and compelling points in his recent article titled: "The Future of Race Relations in Post-War Liberia", which was published in the August edition of The Perspective. In that article cited a White woman who published on her blog the following
LIBERIA: The Nucleus to Reducing Poverty
(By Francis W. Nyepon)
This article explores the core factors to reducing persistent poverty in Liberia, which this author believes holds the key to unlocking our persistent challenge with sustainable development. It explores the dynamics of structural poverty not from the view of micro and macro economic levels of constraints that limits growth, such as stagnation, unemployment, poor production, and lack of access to markets
---
Tackling Trade and Investment: The Government reaches out to the Diaspora
(By Abdoulaye W. Dukule')

Whether they decide to return home or stay in exile, Liberians in the Diaspora will play an important role in the reconstruction of the war-devastated country they left behind. Over the years, as governments stopped providing the basic necessities Liberians in the Diaspora somehow managed to keep the country going, through remittances and sometimes, through small economic ventures.

The 'Born Again' Peter Kieh Doe
(By Siahyonkron Nyanseor)
According to the American patriot, Thomas Paine, "He that would make his own liberty secure, must guard even his enemy from oppression; for if he violates this duty, he establishes a precedent which will reach himself". These words are even true today because journalist Peter Kieh Doe, who was noted for vigorously defending the status quo by going to the extreme, has now joined those of us...

Threats Ignored: Redirecting the Sirleaf Administration's Policy Postures
(By: Emmanuel Dolo)
Liberia, before the civil war was a shattered society and the war broke the last straw. The disintegration became complete, people's psyche and all. Today, most, if not all of the institutions in Liberia are in ruins. The prospects of change are overwhelming because the problems are intractable.
---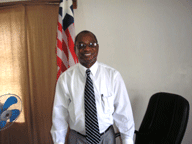 John S. Morlu
Regarding the Pleasure of the President
(By Francis K. Zazay)

I see that some writers in the Diaspora and Lofians in particular are discontent about the immediate dismissal of Mr. John S. Morlu. This has led some to begin to question the appointments of the President, to the extent that some are evaluating surnames to justify nepotism.
---
Maryland and Bong Counties Sign Bilateral Agreements with the State of Maryland, USA
(Reported by Roberta Brown and J. Nan Larsah)

On Monday August 27, 2007 the counties of Bong and Maryland signed bilateral agreements with the state of Maryland, USA for a Sister State-County relationship. Meeting at State House in Annapolis, MD a Memorandum of Understanding (MOU) was signed. Signing for the State of Maryland was Governor Martin O'Malley, while County Superintendents Ranney Jackson and Sie-Teba Neufville signed...
"RIDDLE of PATRIOTISMS"
(By Sonkarley T. Beaie)

For about a month in a town or village, the people there had no source of protein, particularly, meat to cook soup, and were searching everywhere to buy, no matter how much the cost would be. Surprisingly, one afternoon, a hunter returned with three pigeons, and people rushed there to buy.
---
An Open Letter to the Budget Bureau of the Republic of Liberia
(From J. Kerkula Foeday)

I am writing to point out a discrepancy discovered in a referral made by the Budget Director of Liberia and at the same time call on the Budget Bureau not only to correct the discrepancy, but also to ensure that the 2007/2008 budget is published on the
Ministry of Finance
website, the
Executive Mansion
website, or the Budget Bureau website
The Truman Doctrine: Europe Benefited, While the Rest of the World Including Liberia Endured Hardship - Part I
(By Siahyonkron Nyanseor)
The Internet unlike in previous decades has become a protest force for liberation. Today, the Internet has become a forum to debate, discuss pressing issues confronting our respective countries and issues of global concern. Notwithstanding, instead of upholding the relevance the Internet offers for a responsible exchange of beliefs, views, others in this public domain, have used it to make reckless statements about those whose points of view they disagree with. A case in point is, R. Wesley Harmon. Mr. Harmon
---
Africom: Is President Sirleaf Ignoring The Lessons Of Hstory?
(By J. Yanqui Zaza)

Concerned Liberians, predictably, argue that the U.S. military headquarters (Africom), if located in Liberia, would pose more risk to Liberia as compared to the rosy economic benefits President Sirleaf has projected. They assert that their reasoning is supported by the comments made by Herman Cohen, former U.S. Assistant Secretary of State for African Affairs from 1989-1991 in an interview, (Global Connections), the U.S. duplicity in its foreign policies and the influence...
The Iron Lady
Liberia needs the "Iron Lady", not "Ma Ellen", to Run Government!

(Editorial)

People who have being following the political life of Mrs. Johnson-Sirleaf concluded that, if elected she would have not only penned her name into the annals of history as Africa's first female president, but also as one of the best leaders the African continent has ever had. So they overwhelmingly voted for her. She has been in action as president of Liberia for a little over a year and a half!
---
COUP PLOT N° 1 : Mere Speculation, Manipulation or Real?
(By James Thomas-Queh)

As the nation celebrated its 160th Anniversary with fireworks, an alleged coup plot has been foiled. And needless to mention the near tragedy of the joyous celebrations of July 26, 2006, went the Executive Mansion went up in flames. True, there may be no link between both incidents, but it must be extremely worrying for a government whose mandate extends to 2012, and most troubling also for our national security.
Vacancies For A Senior Accountant & Two Staff Accountants - Ad

A Successful multi-mill ion-dollar national company with headquarters in
Monrovia is searching for an experienced and motivated Senior Accountant
and 2 Staff Accountants. Candidate will be part of a great working
environment, supportive team, and receive opportunity for advancement.

Passing: A Classic Case of Shame and Tragedy
By Siahyonkron Nyanseor

"Passing: A Classic Case of Shame and Tragedy", is a fictional story about a unique place called the Afrikan Republic of Dukor, whose citizens were somehow confused about their identity. The events narrated here took place throughout the 1960s and up to the 1990s,
---
Liberia: Why a Terrorist Command Post Is a Bad Idea
(By Jefferson F Cooper)

President Ellen Sirleaf of Liberia invited the United States to build its Africa's terrorist command center in Liberia to deter alleged terrorist organizations from operating in Africa.
The Foiled Plot
(By Patrick Flomo)

It has been three weeks since the foiled conspiracy to subvert the government of Liberia by armed force became public knowledge. The Liberian government has formally charged George Koukou and Charles Julu, two of the alleged conspirators, with treason.
Cease the culture of violence
(By Ahmed A. Dukuly)
The enrapture and subsequent lure of Liberian youth into violent brigade is becoming a phenomenon that have served as impelling factor for us to educate our colleagues with the lesson we have learnt from Gregor Mendel, the Australian Monk, studies of Genetics.
"Exploring the U.S. Africa Command and a New Strategic Relationship with Africa."
(Statement by Mark Malan)

In some parts of the world, like Iraq and Afghanistan, the face of US foreign policy is clearly a military one. In Africa, the DoD appears to be putting a civilian mask on the face of a combatant command, with its marketing pitch for AFRICOM. This disingenuous strategy is not working. The veneer of the mask is simply too thin, and attempts to patch the holes that have emerged—by telling us "what AFRICOM is not about" and re-emphasizing a humanitarian and developmental role for the US military in Africa—simply make the face of US foreign policy much shadier.
AFRICAN ACCOUNTABILITY: A Dichotomy: The Hidden Reasons for Africa's Reluctance to Host The Most Revolutionary Concept to Hit The Continent, Since Independence
(By R. Wesley Harmon)
From the perspective of Liberia, just as Russia was wrong back when they opposed the idea of Europeans accepting American economic assistance, that is how wrong J. Yanqui Zaza, Ezekiel Pajibo, Elmira Jackson and others are. Dead Wrong!
Exploring the U.S. Africa Command and a New Strategic Relationship with Africa
(Statement by J. Stephen Morrison)
CSIS has taken a strong interest in AFRICOM over the past year, and had the good fortune to discuss AFRICOM's rationale and implementation plans with General Craddock in late 2006, as he was heading to Stuttgart to assume his duties as Commander in Chief of U.S. Forces Europe and Supreme Commander of NATO. In May of this year, CSIS also hosted General "Kip" Ward, EUCOM's Deputy Commander in Chief and the current nominee to be the first Commander in Chief of AFRICOM.
---
"Africa Command: Opportunity for Enhanced Engagement or the Militarization of U.S. -Africa Relations?"
(A Presentation By: Wafula Okumu)

Dr. Wafula Okumu is the head of the African Security Analysis Programme, Institute for Security Studies, Pretoria, South Africa. "Africa Command: Opportunity for Enhanced Engagement or the Militarization of U.S. -Africa Relations?" is his testimony he delivered on August 2, 2007 to the U.S. House Committee on Foreign Affairs, Subcommittee on Africa and Global Health. Dr. Wafula is an associate of The Perspective.
Perceptions and Beliefs about Interpersonal Violence
(By George Kronnisanyon Werner)

I was born in Liberia, West Africa. My Perceptions and beliefs about interpersonal violence were formed by my mother's complex love story with my father, by my living through a decade of civil war, and by the many young people with whom I have worked over the past fifteen years.
Should Liberia Host Africom, The Would-Be Headquarters Of The War On Terrorism (World War Iv)?

Should Liberia host AFRICOM, the supposedly would be headquarters for fighting terrorism, the undeclared World War IV according to Rudolph Guiliani, former Mayor of New York City and a Republican candidate for the U.S. presidency in 2008? (NY Times Magazine, 7/22/07). Should Liberia, with zero infrastructure, with porous borders, and with significant section of its population uneducated, uninformed, unemployed, etc become a target by terrorists or become the Iraq, Pakistan, or Afghanistan in West Africa?
Several Lucrative Positions Available At Mittal Steel
Mittal Steel Liberia Ltd. in Collaboration with the Ministry of Labor is pleased to announce the following staff vacancies required for its mines development project in Nimba, Bong and Grand Bassa Counties:

Walking The Fine Line - Are "Young" Liberians Ready Or Not?
(By: James W. Harris)
I sincerely don't know about other writers and/or journalists, but for me personally, it is always a high privilege whenever I get feedback from my readers - whether negative or positive. Usually, they come in the form of e-mails dropped into my Inbox by people who were either mad that I had written something critical - albeit constructive - about someone they admire or people who simply want to say thank you.
---
President Sirleaf did not only Violate the Longstanding Procedure of Courtesy
(By Fillmore S. Hney)

In all honesty, Mr. Zaza has a right to know anything he wishes with regard to what goes on in Liberia. It is always said that in the court of public opinion, everybody has a right to express him/herself. So, no one has a right to accuse the gentleman for speaking his mind.
TPS Extended for Liberians
The United States House of Representative on Monday, July 30, 2007 passed Bill HR-3123, granting Liberians on Temporary Protected Status (TPS) another year to remain in the U.S and work. The House bill will ease the worries of the five thousand plus Liberians that would have been asked to leave the U.S. come October 1, 2007 when the presidential DED expires...
JOB VACANCY At A Multi-Million Dollar Company in Liberia
A multi-million dollar company seeks the immediate employment of a dynamic individual with experience functioning at top management level, with demonstrated skills in supervision, coordination, organization, analysis, communication, inter-personal relations, creativity, and leadership; to serve as Deputy Managing Director (DMD). The individual must be a Liberian.
Overcoming Threats Our Past Poses to the Present and Future
(By Emmanuel Dolo)
Liberia is 160 years old as a nation state. But the recent allegations of a coup have underlined just how real the threat of our past is to the present. These allegations, though unproven, and might never be proven to the satisfaction of some constituencies, show how vulnerable our country is to vengeance or other intentional acts of instability.
---
Bonus at LPRC: An Outrage
By William E. Allen
I
t has been nearly two weeks since I read the story about the bonus that the Board of Directors of the Liberian Petroleum Refining Corporation awarded Managing Director Harry Greaves and itself (FrontPageAfrica, 07/11/07). My immediate reaction was to write this article
Open Letter to Madam Ellen Johnson-Sirleaf
By Ibrahim Al-bakri Nyei
I bring you warmest greetings in the spirit of nationalism. Please accept my post Independence Day compliments. This is my first time communicating with you since you ascended to the stewardship of this country.
Correlation does not mean causation: A response to Jerome Pajibo's letter of July 23, 2007
By Joseph S. Fallah
I am motivated to respond to his letter first because I am a concerned Liberian, and second because I am afraid of the potential negative consequences of the misconception that characterizes Mr.Pajibo's letter. To suggest a causal relationship between the alleged coup plot in Liberia and the U.S. Immigration policy on TPS is a fundamental weakness of his argument that must be dismissed in the strongest possible terms.
TPS Liberians Behind Alleged Coup Plot?
(A Letter From Jerome Pajibo)
As the nation (Liberia) celebrates her 160th birth anniversary, once again, the nation and its people have again been placed on nearly some of the major international news organs. Even the VOA news ran the story. This time around, it has to do with a purported coup attempt.
---
Tom Woewiyu's Memo: A Plot to overthrow the Liberian Government by Force of Arms

It is with a heart laden with unbridled grief and deepest regrets that I inform the Government of Liberia and other interested stakeholders about a 'plot' to overthrow the Government of President Ellen Johnson-Sirleaf by force of arms. I am acutely aware of the danger this revelation will place on my life.
Ratification of the United Nations Convention on the Rights of Persons with Disabilities: A Compelling Urgency
(By Sakui W. G. Malakpa)
It is estimated that between 600-650 million people live with disabilities worldwide (NCD, 2002; ISAAC, 2007). Eighty percent of these people live in the developing world (NCD, 2002). "More compelling, however, than the sheer magnitude of this population, is the appalling lack of respect for even the most basic human rights of people with disabilities in both the developed and the developing world" (p.1).
Allied/Auxiliary Healthcare Workforce Shortage: Scrutiny and Strategies
(By Emmanuel Dolo)
Fourteen years of war caused or exacerbated significant problems in the workforce, infrastructural, and systems needs of the healthcare sector in Liberia. This experience is analogous to a train wreck and rebuilding reflects the intimidating challenge of placing the train back on track.
---
President Ellen Johnson Sirleaf Government: image problems and the need for corruption cleanup
(By Amos Ziah Koukou)

The ongoing debate between the Auditor General of Liberia, John Morlu II, on one hand, and the Liberian Government on the other, has helped to highlight the need for continued debate on the issue of corruption in Liberia.
AFRICOM: GHANA, MOROCCO, AND OTHERS SAY NO TO US OFFICIALS. WHY PRESIDENT SIRLEAF WANTS AFRICOM BADLY?
(By J. Yanqui Zaza)
President Ellen Johnson Sirleaf, in her eagerness to have the American security network (AFRICOM) established in Liberia, did not only violate the longstanding procedure of courtesy to consult with the Legislative Branch on major issues, but also violated foreign diplomatic protocol.
REGIME CHANGE: Target Robert Mugabe of Zimbabwe
(By Emmanuel Abalo)
The southern African nation of Zimbabwe today shamefully represents the embodiment of total economic collapse, threat to life and an inevitable regime change under the watch of President Robert Mugabe.
The Auditor General And Budget Director Must Cooperate
(By Nyekeh Forkpa)
For quite sometime now I have followed the arguments regarding the submission of the young Auditor General of Liberia, John Morlu, during which he is reported to have pointed out many areas of omissions and made the statements to the effect that "the draft budget was not auditable" and that "the Sirleaf government was three times more corrupt than the Bryant Government.
Is Fighting Corruption In Liberia The Business Of President Sirleaf Alone?
(By: J. Momolu Kaindii, Jr.)
The minds of some Liberians are still sealed in metal cages welded with ignorance and irrationality. Most of our compatriots in and outside Liberia remain blindfolded and insensitive to the complex historic realities of Liberia, the predicaments and constrains well-meaning Liberian leaders
TRC Trains Statement Takers In Ghana
Following a successful statement taking pilot with Liberian refugees on the Buduburam Liberian refugee camp, Gomoa District, Republic of Ghana in May, the TRC recently implemented Phase III of the Ghana Diaspora project, where ten (10) community leaders on the camp were trained as Statement Takers.
Rejoinder To: Commentary: AFRICOM: Ghana, Morocco, Others Say No to U.S. - Why Sirleaf Wants it Badly, written by J. Yanqui Zaza, and published by FrontPageAfrica
(By R. Wesley Harmon)
The desire to criticize everything about anybody, at any given time, seems to be a character trait, or flaw, which permeates Liberian society. Almost every Liberian, with very few exceptions, considers himself expert at delineating the faults of others. More often than not the venomous manner and the haste with which criticism is spewed out, suggests that the author may not have taken time to do due diligence prior to his/her invective(s).
---
Reexamining the Logic of Closing the University of Liberia
(By: Emmanuel Dolo)

An alumnus of the University of Liberia, nothing is more disheartening than to hear that my Alma Mata has been closed by the government. While a student at the University of Liberia, I experienced two closures of the university by the Doe government. Those abrupt closings of the university caused setbacks in my academic pursuit and my personal life...
My Continued Disappointment with Politicians in Liberia
(By R. Wesley Harmon )
In my opinion, any society in which individuals lose their ability to feel ashamed and disgraced, for acts of commission and omission, inimical to the welfare of that society, is evidence that the society is on a downward spiral. I am awe-struck by the lack of remorse, the refusal to feel ashamed, and admit culpability for having wreaked havoc on unsuspecting, innocent members of the Liberian society...

The Itinerary: Moving Liberia from Zero to Zenith
(By: Deconte Jackson Baker)
A couple of nights ago, I was reading the United Nations "Millennium Development Goals" or simply put, "MDGs", document detailing eight core development goals that the UN anticipates its member countries would prioritize and make significant strides toward achieving by the year 2015.

---
Faulty Diplomacy Or Shameless Begging
(By Gbe Sneh)

I have been grappling with President Sirleaf's recent visit to Equatorial Guinea. My mind has been tossed and turned every which way in an attempt to reconcile this move with CBS' 60 Minutes clip on this small oil-rich, yet impoverished country off the coast of West Africa.
Morlu certainly has a "fish to fry" in budget matters in Liberia
(By Isaac Browne, Jr.)
As a young Liberian it is encouraging to note that The Perspective has certainly given me, among other things, the platform to air my opinion regarding matters concerning my country Liberia. Among the many articles I read daily some are encouraging and quite stimulating, while others leaves much to be desired particularly when I attempt to analyse the actual logic behind certain articles.

The Liberian Professional Networking Directory Expands By Creating A Global Online Directory And Resource Guide
(Press Release)
The Liberian Professional Networking Directory is creating an online edition and expanding its database to include other professionals and investors who are interested in doing business in Liberia . This initiative will be led by T. Nelson Williams, II, President and a team of professionals residing in and out of the United States .

---
The Budget Debate: Good Governance Means declaring all Sources of Government Revenue
(By Phil George)

Having read all the arguments in the ongoing budget debate, it is reasonable to conclude that AG Morlu makes some very compelling arguments. Foremost is the argument that all sources of government revenue should be reflected in the national budget, regardless of their financial disposition. In my opinion it's simply a matter of accountability and transparency, not to mention good governance.
---
Corruption Oils The Wheels Of Corrupt Business: Would President Sirleaf Undermine Her Allies' Interest?
(By J. Yanqui Zaza)

Do Liberians expect President Ellen Johnson Sirleaf, or any other leader who is a beneficiary of contributions from corrupt investors, to institute policies that would reduce rewards, which necessitated a relationship in the first place? Or having executed three former presidents, starting with E. J. Roy and two more indicted, should we not focus on why and how Liberia ruling class uses corruption to perpetuate its hold on power?
Budget Discussion and Analysis Presented to the Honorable House of Representatives By John S. Morlu, II
I want to thank you for inviting me to provide clarifications of the Office of Auditor General's Review, Analysis and Recommendations on the draft National Budget, 2007/2008. I want to thank the Liberian people for actively participating in this budget debate. In the end, when all is said and done, this budget debate is good for Liberia.
---
President Sirleaf 'Liberia's US African Command Headquarters Initiative', Full Speed Ahead
(By Momolu V.O. Sirleaf)

President Ellen Johnson-Sirleaf recently expressed Liberia's interest in hosting the United States Africa Command military operations, known as AFRICOM. US President George Bush created the new military command this year for Africa. AFRICOM is one of the long-standing hangovers from the cold war era--
---
Wannie Botoe And David Momoh, Football Legends Whose Time Has Come To Be Honoured, Too|
(By Benedict N. Wisseh)

We, who follow Liberian football, are often told of the stories of the sports' modern legends. While the stories of Liberian professional players constitute an important part of the history of Liberian football (soccer), there are legends, such as Wannie Botoe, Gladstone Ofori, Mass Sarr, David Momoh, Garrison Sackor, George Sackor, Josiah Johnson, and many others, whose stories, perhaps, are not being told because they never played professionally in Europe. They are laughed at and disregarded by us.
---
The Liberia Budget Process and the Role of the Auditor General's Office
(By Robert Llewellyn Kilby)

While surfing the Internet, I read several articles concerning the Liberia Budget Process and the role and responsibilities of the office of the Audit General of Liberia. The articles were interesting, and therefore I decided to provide input from the Public Accounting perspective.
---
Governing with Corruption in the Forefront: Challenges and Strategies
(By Emmanuel Dolo)

No leader can govern in the post-war era and claim political success without curbing corruption. Decrease in corruption is intricately linked to many indicators of social progress. When corruption increases, opportunity for socioeconomic development decreases. Corruption aggravates the cost of doing business and increases crimes. Crimes diminish investments. Floundering investments intensify poverty and ultimately corrode quality of life
Telephony: Poor, Lonely LTC (Part I)
(By Lionel Bernard )
How can I put this lightly? Well, since euphemism is no substitute for clarity, here is my direct point: Liberia's telecom sector is in a state of disarray and craving for effective leadership. We now have so many forces jockeying for status and control that the sector is starting to look like a battlefield without generals and only soldiers. Meanwhile the real civil war ended several years ago and the telecom spoils were avariciously split up between the four mobile operators in Liberia.
Morlu Has "No Fish To Fry" In Budget Matters
(By James W. Harris)
For quite some time now I've been very reluctant or somewhat too lazy to continue engaging in seemingly endless debates concerning Liberia. Primarily, I find it to be highly frustrating as well as a complete waste of my precious time to continue to engage in such debates when most Liberians seem to be satisfied with the present governing "system" in their war-battered country.
---
Liberian Traffic Police and Immigration Officers Harass Visitors for Money
(
By Phil George)

If you plan to visit Monrovia and drive a car while you're there, you need to be prepared to deal with corrupt
traffic Police officers who will stop or pull you over and harass you for money. While driving in Monrovia recently, I was stopped three times, two of which was for no reason other than to demand money for which I refused.
---
Liberia Lacks Architecture Culture
(By Elijah Karnley)
We hope that Liberia can strengthen its Architectural culture by institutionalizing the profession through an organized body and system that would appropriate the level of professionalism and the true meaning of architecture.
Conflict and Fragile States: Some Contentious Issues
(Keynote Address delivered by Dr. Amos Sawyer)
I have been involved in international development work in one way or another for more than 30years—but largely from the perspective of the local partner. As a University lecturer, a civic activist and advocate and as a government functionary, my work has always been about how local people can improve their lives, drawing first upon their own capabilities and benefiting from the ideas and material assistance of others.
Fighting the level of the customs bureaucracy in Liberia
(A Letter From Ms. Prue Clarke de Cavaignac)
I spent three days fighting every level of the customs bureaucracy in Monrovia in Dec 2005. I am an Australian journalist and a group of my friends and family had decided to send a generator and freezer to help a family of orphaned returning refugees I had reported on. I had imported into 3 countries before that and I had never seen anything like the ports at Monrovia.
---
Ellen Talks About Unemployment, Fight Against
Corruption, Chinese Cooperation & the trial of Charles Taylor
S
ince she moved into the Executive Mansion on January 16, 2006, in Monrovia, Ellen Johnson Sirleaf goes around with her small womanly steps to the four corners of the world. China, Japan, US, and recently again in France, Germany… To her colleagues who open their doors to her, she repeats, with the same pragmatism and the same smiling face that her country of three million people brought to its knees by 14 years of wars, need help. Her reputation of honesty, straight talk and her age-old militancy has something to do with it all. "Ma Ellen" as she is known to many of her compatriots in deference to her 68 years of age, inspires confidence.
Corruption engulfs Sea and Airports in Liberia
(By Sam K Zinnah)

The Freeport of Monrovia and the Robert International Airport "two of Liberia's gateway to its economy" has become mere hustle grounds. When President Ellen Johnson Sirleaf took oath on January 16, 2007, she overtly encouraged and invited Liberians in the Diaspora to return home and contribute to the reconstruction of their country that is recovering from more than decade of civil war. During several visits to the United States and other countries around the world, President Sirleaf continuously encouraged Liberians to return home and help with the reconstruction process but many Liberians who have attempted doing business in...
---
The Auditor general's Review of the Draft 2007/2008 Budget of the Republic of Liberia
Sources close to the General Auditing Commission speak of a flurry of requests for copies of the Auditor General's Review of the 2007/2008 budget of Liberia. Though we do not have access to a pdf version of the Draft Budget, click the link above for a pdf copy of AG's review of the draft budget.
Liberia Receives $45 Million Dollars For Security From U.S. Congress
(By Abdoulaye W. Dukulé)
During his last visit to the US, Defense Minister Brownie Samukai raised some concerns about the security sector reform (SSR) underway in Liberia. Among other issues, he pointed to funding gaps that severely curtail the training of the new army. At the time, only 105 troops out of an expected 2,000 had undergone training